Carl Hopf: EHS in the time of COVID | Bluetooth, PPE, and Biological Best Practices | SDP152 Livestream 11-24-2020
[Podcast] Has Apple or Google uploaded a COVID-19 tracking app to your phone without asking first? One million Coloradans have opted in to receive COVID-19 exposure notifications – now what? Could voluntary apps become part of unalterable operating systems? How exactly does Bluetooth work and what are the security risks with Bluetooth communications? What's the deal with homemade PPE? How do biological teachings or OSHA classes differ from the cascade of health-preservation advice or directives issued by governments, hospitals, and even talk show hosts? Environment / Health / Safety & Data Systems Expert Carl Hopf guides us to the granular level of these matters. Read the full blog post for this episode at safetyphd.com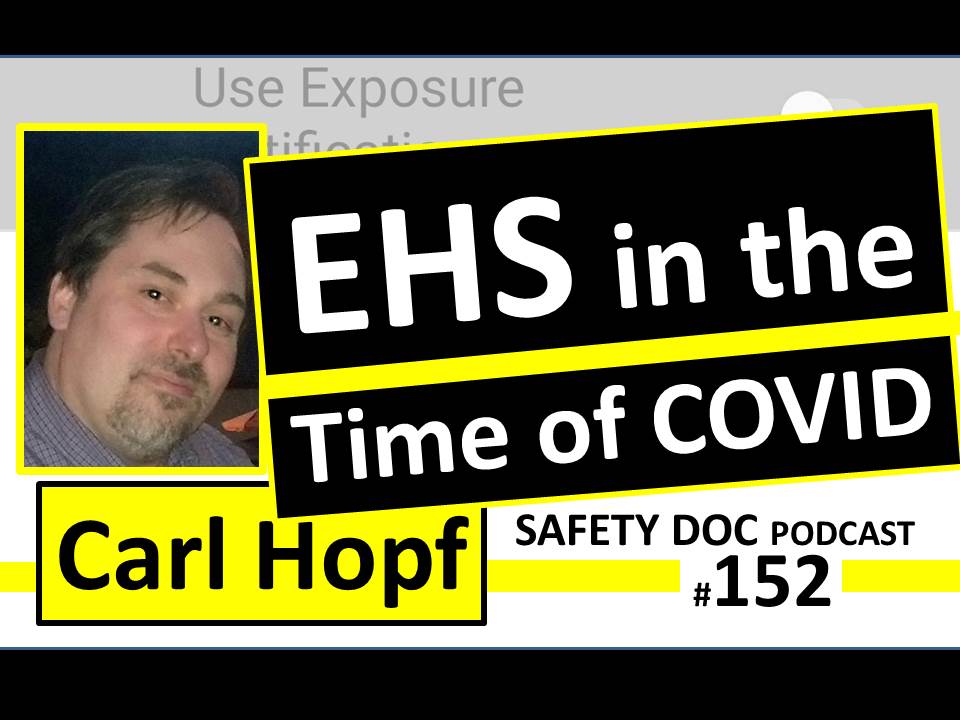 DIRECT LINK to MP3 of this Episode: https://tinyurl.com/SDP152-AUDIO
ABOUT CARL HOPF
Carl has worked in Environment, Health and Safety, and facility management for over 25 years. He started working as a technician in laboratories, then evolving into managing academic clinical and basic laboratories in NJ. He was also an academic IT manager, educational video conferencing manager  and has been involved in emergency response for many years. Carl has also worked in emergency management, HAZMAT/BIOMAT/RADMAT for eight years. He has also worked in EHS and data management in a corporate and manufacturing setting for six years. Currently, he is a contractor for multiple companies that are involved in management systems, EHS, and safety.
COVID PHONE APP and BLUETOOTH
Carl noted that New Jersey was overt in notifying residents about the COVID19 tracking app downloaded to their phones. The app opt-in is voluntary and it functions by using the phone's Bluetooth feature, which constantly scans for nearby channels and is a big drain on battery life. Walking in public, Bluetooth has a radius of about 15 feet. The tracking app will immediately notify the phone's owner if they are in close contact with another app user who has tested positive for coronavirus. Close contact is defined as spending 15 minutes for longer near someone who tested positive for the virus. The app won't identify the infected person (HIPPA) and prompts the user to call a contact tracing team for additional directions (contact tracing)
COULD VOLUNTARY APPS BECOME PART OF THE PHONE OS?
Carl stated that if the COVID19 tracking app was embedded in a future version of his phone's operating system, he would choose to no longer use the phone. There was an uptick in flip phone sales prior to the pandemic as people attempted to break from addiction to their smartphones and concerns about tracking existed well before 2020.
PROBLEMS WITH HOMEMADE PPE (and all PPE)
Carl describes micron ranges and questions the effectiveness of homemade PPE which has been made from both yarn and underwear. He recounts the PPE he wore while working in virology labs and the stringent security protocols to ensure that PPE never left the "gray" zone – which was the area proximal to bacteria or viruses. This is a huge contrast to people around us carrying their masks with them from place to place and shoving them into the car's cup holder until the next time they "need it" to enter a building.
WHAT A PPE AWARE SHOPPING EXPERIENCE WOULD BE LIKE
Imagine the entrance of a grocery store in which the incoming shopper was required to gown up and wear a store-issued mask. And, when they exited the store, they would deposit their PPE into a secure disposal unit. Carl states that the CDC manuals for biohazards are in conflict with recent guidance – and that guidance was also changing often and not standardized across locations – resulting in safety fatigue.
COMPLIANCE SAFETY vs. BEHAVIOR BASED SAFETY
Carl unpacks two prevailing psychological approaches to safety. The first is compliance safety, or people performing an act in order to be compliant with a rule. For example, crossing a street at the crosswalk when the "WALK" light turns white. Behavior based safety is more centered to the person surveying their setting and making decisions that they deem matches the situation and context. For example, deciding which side of the street that they will walk on. Carl cautions that an over-abundance of compliance safety devolves to people complying just to get the outcome, and losing sight of the deeper rationale for their actions. These are also known as "check box" activities. He urges people to question why they are being asked to do things – to seek to understand the fundamental purposes.
FOLLOW
Purchase Dr. Perrodin's book: Schools of Errors – Rethinking School Safety in America