Failure to Regress to the Mean | Why Things Aren't Returning to Normal | SAFETY DOC LIVESTREAM 10-29-2020
[Podcast] Doc returns from sabbatical for this Master Class and delivers updated interpretations of Finite Voltage, Crowd-In Behavior, and his newest concept of "Failure to Regress to the Mean" to describe the current condition of society. Read the full blog post for episode #149 at safetyphd.com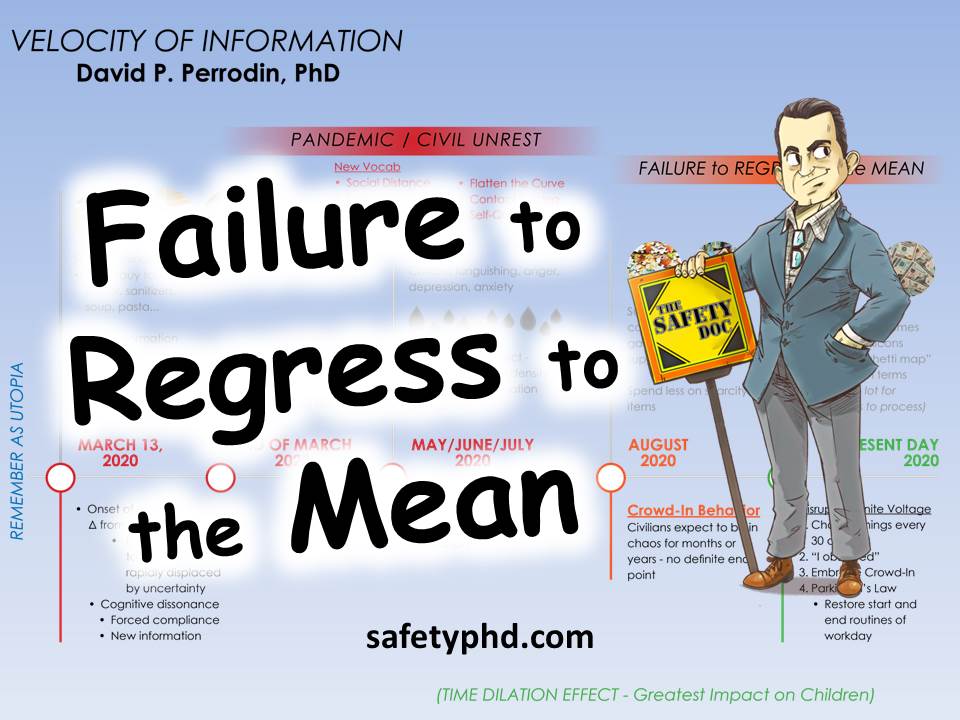 DIRECT LINK to MP3 of this Episode: https://tinyurl.com/SDP149-AUDIO
TACTICAL WISDOM
David begins with sharing a recent post by Joe Dolio at tactical-wisdom.com. Joe offers a heavy dose of face validity in sharing his observations of the greater Detroit area including photos of a WalMart that removed all guns and ammunition as a "precaution" in the event the store was compromised during election-related civil unrest. Increased outward-facing lighting at a power substation was another image that warned that corporations and municipalities are anticipating a collapse of law and order in the coming weeks.
PRAIRIE FIRE
Author Clay Martin, a previous guest on The Safety Doc Podcast, released another "essential reading" book on October 15th. Per Clay, "Prairie Fire is a guide for Red Counties to survive and thrive during what looks to be another Civil War brewing. Drawing on his experience in Special Forces with counter insurgency, the author creates a step by step road map to making it out alive." Doc will review the book in a future podcast.
WHAT IS REGRESSION TO THE MEAN?
It's a concept (actually a tendency) from statistics and means that things tend to return to "average" over time. Doc describes that American's expectation for similarity, or that their days tend to be the same, was interrupted in mid-March with COVID19 lockdowns, exacerbated with civil unrest in the summer, and will be even further distorted with pending Presidential election protests, riots, and potential legal battles. There is no evidence that Americans' lives are regressing to the mean – or returning to some form of similarity. This is a precarious, unsettling situation that is already amplified by Finite Voltage and Crowd-in Behavior. Dr. Perrodin notes that while we are accustomed to life "bouncing back" in a matter of days, we need to prepare for many months, or even years, until our lives regress to the mean – something last experienced by Americans in the latter 1930s.
SPORTS ILLUSTRATED JINX
One example of regression to the mean is the infamous Sports Illustrated cover jinx. The jinx states that whoever appears on the cover of SI is going to have a poor following year (or years). But the "jinx" is actually regression towards the mean. Player's make the cover after an exceptional year and it's statistically unlikely that they will either repeat that performance or improve upon it.
FOLLOW
Purchase Dr. Perrodin's book: Schools of Errors – Rethinking School Safety in America