New First Amendment Playbook | Big Tech Censorship | What You Need to Know | Livestream 11-12-2020
[Podcast] Doc unpacks how 2020 was the year that mass media and big tech fogged the American people and became the gatekeepers of the First Amendment. People are measuring their words or waking up to an unchallengeable revocation of their social media platforms (just ask Mike Glover). It's time for a sober reckoning of considerations and consequences for expression and "the marketplace of ideas" in the social media age. This is episode 151 of The Safety Doc Podcast. Read the full blog post at safetyphd.com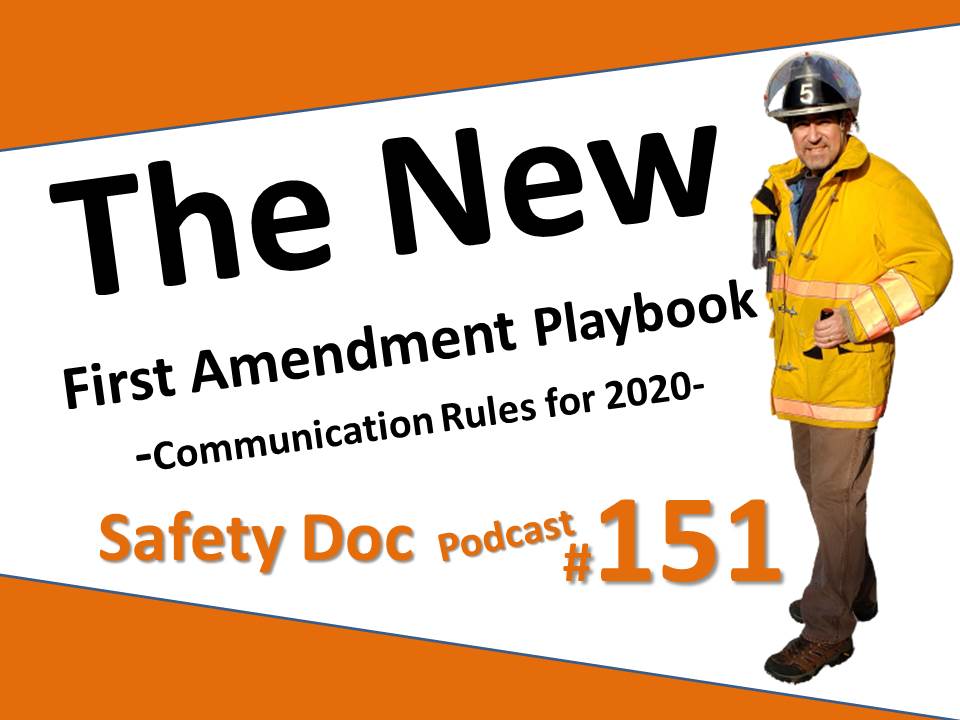 DIRECT LINK to MP3 of this Episode: https://tinyurl.com/SDP151-AUDIO
THE FIRST AMENDMENT
The First Amendment protects freedom of religion, speech, press, petition, and peaceful assembly. It doesn't actually promise you the right to say whatever you want.  It simply states the government can take no action that interferes with those rights. Per David Hudson, Jr., "The First Amendment only limits governmental actors—federal, state, and local—but there are good reasons why this should be changed. Certain powerful private entities—particularly social networking sites such as Facebook, Twitter, and others—can limit, control, and censor speech as much or more than governmental entities. A society that cares for the protection of free expression needs to recognize that the time has come to extend the reach of the First Amendment to cover these powerful, private entities that have ushered in a revolution in terms of communication capabilities." (AmericanBarAssoc, 2019).
SECTION 230 OF THE COMMUNICATIONS DECENCY ACT
Passed in 1996, before social media, Section 230 protects websites from lawsuits if a user posts something illegal. In the United States, the First Amendment prohibits the government from restricting most forms of speech, which would include many proposals to force tech companies to moderate content. A law that required companies to moderate content based on the political viewpoint it expresses, for example, would likely be struck down as unconstitutional. However, private companies can create rules to restrict speech if they so choose. This is why Facebook and Twitter ban hate speech, for example, even though it is permitted under the First Amendment.
IS ANYTHING BEING DONE TO EXPAND FIRST AMENDMENT TO SOCIAL MEDIA SITES?
In January 2020, Joe Biden proposed revoking Section 230 which would make tech giants and online platforms responsible for knowingly allowing content on their platforms that promotes and facilitates violence. Nothing was done, however.
EXPANDING FIRST AMENDMENT TO PRIVATE COMPANIES?
The American Bar Association argues that it's time to expand First Amendment The point here is that when an entity like Facebook engages in censorship, individuals don't get to participate in the marketplace of ideas and are not allowed the liberty to engage in individual self fulfillment— just like when a governmental entity engages in censorship. When a private actor has control over online communications and online forums, these private actors are analogous to a governmental actor.
HOW AN HOA RULING MIGHT EXPAND FREE SPEECH
The state high court wrote: "In New Jersey, an individual's affirmative right to speak freely is protected not only from abridgement by government, but also from unreasonably restrictive and oppressive conduct by private entities in certain situations." (Mazdabrook Commons Homeowners Association v. Khan, 2012). This ruling impacts posting flyers to hanging flags.
SOCIAL MEDIA AND BIG TECH TERMS OF USE
You accepted the terms to use social media. These sites are free BECAUSE they harvest your data, analyze everything you put on their sites, and sell it to marketers and governments.
FUTURE OF FREE SPEECH IN A SOCIAL MEDIA WORLD
Algorithms and complaints will lead to more de-platorming. A pandering government is unlikely to challenge big tech monopolies and big tech would have much influence over public perception if suddenly limiting individuals' access to its services or implementing fees for traditionally free services such as email. GMAIL and Google suite are not public goods.
YES, THE COVID19 TRACKING APP WAS INSTALLED ON YOUR PHONE
Seemingly overnight, millions of phones around the world got a feature to help track and slow down the spread of Coronavirus. Google and Apple partnered on the system, which is technically called "contact tracing" but goes by the less intimidating "exposure notification." This app is now passively on most of the world's smartphones.
FOLLOW
Purchase Dr. Perrodin's book: Schools of Errors – Rethinking School Safety in America