Teacher Burnout Crisis | Short-Staffed Schools Closing | 5 Ways to Solve It Right Now | SDP158
[Podcast] On Friday, November 12, 2021, classes were canceled for many public school districts in North Carolina. The intended purpose of the motion was to offer a mental health day for teachers and students experiencing burnout from the pandemic and the cumulative stress of contemporary education. Doc, with 25 years experience as an educator, describes the sudden popularity of mental days for school staff and why mental health days will both increase and also compound teacher burnout.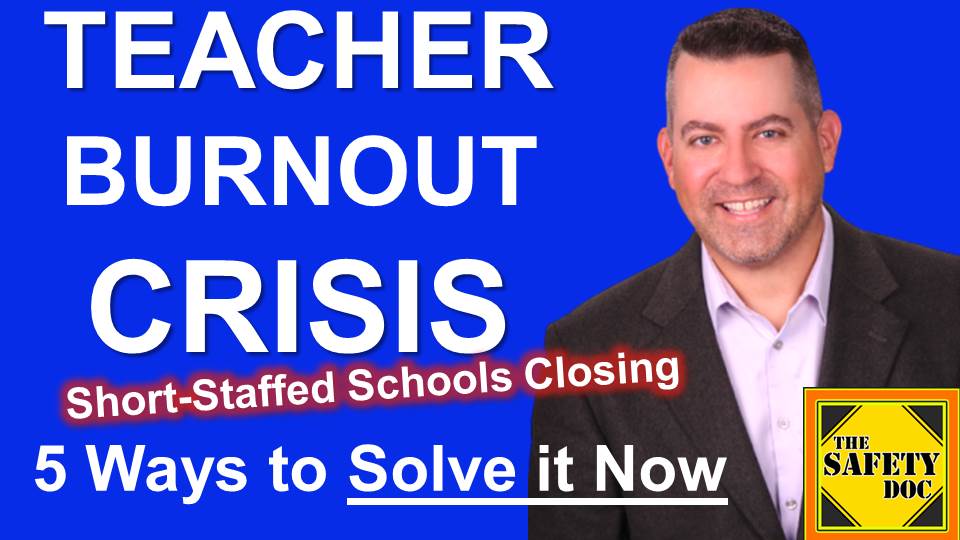 DIRECT LINK to MP3 of this Episode: https://tinyurl.com/SDP158-AUDIO
WHAT HAPPENS ON MENTAL HEALTH DAYS? Staff and students are typically given vague guidance on how to focus on their mental health during days off. When Doc asks educators what they do on mental health days, they respond, "catch up on work," instead of yoga, journaling or anything related to self care. Some note that the days off actually add to their workloads – and that makes sense. Instead of covering a planned lesson in 5 days, now they have 4 days, or 20% less time. Let's be honest, a "day away from school" isn't a magical elixir. This is trendy, but ineffective. Teachers are still burning out.
MENTAL HEALTH DAYS DISRUPT ROUTINES. The school calendar provides consistency – especially now. Students have been out of school or toggled between hybrid and in-person instruction the past two years. Mental wellness days disrupt the continuity of routine. A human's predictable routine can be called the torus – a concept Doc wrote extensively about in his book School of Errors.
FIVE WAYS TO SOLVE TEACHER BURNOUT. Here are five ways to counter teacher burnout. Note that some call for disrupting long-held practices, such as the summer-off school calendar. (1) OBEY PARKINSON'S LAW. Humans function efficiently with defined start and end routines to daily activities. It wasn't just the teaching profession that seemingly went 24/7 during remote learning, but schools have maintained one foot in remote learning and the other in the brick classroom. This has mushroomed the prep and planning for teachers. Schools can't saddle teachers with planning for online, hybrid, and in-person learning.
(2) YEAR-ROUND SCHOOL CALENDAR. In The Velocity of Information, Doc wrote about the groundbreaking work of World War II Army psychiatrist Dr. John Appel. Appel studied burnout in combat soldiers. He discovered that frontline warfighters would be killed, wounded, captured, mentally collapse, or found to be missing in action by 200 days. Increasing pay or championing "Why We Fight" didn't offset the burnout. By that account, increasing teachers' compensation, even doubling it, would likely have minimal effect on burnout. It might increase retention, but retaining a burned-out teacher is a bad idea. Back to Appel, he found that the British got 400 days out of their soldiers on the Italian front lines. How? The British would pull fighters out of duty within twelve days and then rest them for four days. In overlaying this thinking to K-12 schools, a year-round calendar creates rest periods – true "breaks" versus a periodic mental health day. Furthermore, year-round schedules lessen the impact of summer learning loss. Summers off goes back to when we were an agrarian society and then a recreation society. Most educators that talk with Doc are ready for year-round calendars. Beware, the school calendar is a sacred cow.
EMBRACE CROWD-IN MINDSET. There is zero sense that we are in transitory chaos. When people are convinced that chaos will continue for months or years, they surround themselves with comfort items. Remember the Michael Keaton movie Mr. Mom? In it, a fictional company called "Schooner Tuna" was steered away from advertising gimmicks by Keaton's wife. In a surprise move, Schooner Tuna reduced the price of its tuna by 50 cents a can to convey empathy during the economic crisis of the time. Schools are overloaded with initiatives – and these initiatives are baking teachers.
(4) CRACKED BOARDS. Recon Sniper Clay Martin spoke of "cracked boards" when Doc interviewed him about dealing with long periods in high stress settings. In short, it's OK to tacitly acknowledge that you are frustrated – it's the last fuse before burnout.
(5) QUIT ZOOMING. Former Microsoft executive Linda Stone is an expert on human attention. In The Velocity of Information, Stone mentioned that she advises clients that Zoom calls are exhausting and a phone call places less demand on attention. Not every conversation requires a Zoom call.
This is episode 158 of The Safety Doc Podcast recorded on 11-15-2021 and published on 11-16-2021.
FOLLOW
Purchase Dr. Perrodin's book: Schools of Errors – Rethinking School Safety in America