Bank Account Voting System | Transparent Solution to Election Integrity | Guest Lee Jarvis | SDP197
Guest Lee Jarvis returns to the show and explains the features and benefits of a bank account-style voting system. As people grow skeptical of elections, Lee describes that trust may be restored by using existing systems in different ways, and such a pivot might even make it easier for voters to cast votes and to track their ballot. The main points of a bank account-like voting system are: universal national voter registry; voter "bank account" to track and log votes so voters can track their ballot/vote; more locations for a to vote; and improved data logistics for the public to observe the data.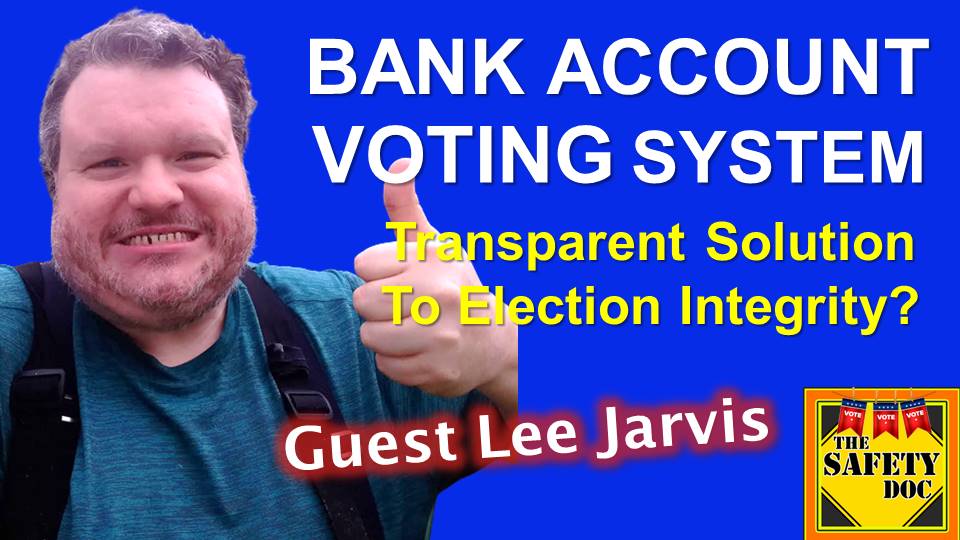 DIRECT LINK to MP3 of this Episode: https://tinyurl.com/SDP197-AUDIO
ELECTION INTEGRITY CONCERNS. News media have stirred the US public with the incomplete portrayal of the timeline of concerns about the integrity of American elections. In other words, election-doubt didn't appear from thin air in 2016. Per Pippa Norris, author of Electoral Integrity in America: Securing Democracy, Oxford University Press (2018), "Concern about the integrity of American elections did not start with Trump's election; flaws in procedures have gradually grown during recent decades. The contemporary "tipping point" that raised public awareness was the 2000 Bush v. Gore Florida count, but the 2016 campaign and its aftermath clearly worsened several major structural weaknesses. This deepened party polarization over the rules of the game and corroded American trust in the electoral process." Furthermore, the 2022 Arizona governor election was marred when officials in populous Maricopa county stated that on election day, [technical] "problems affected ballot tabulation machines in about 60 of the county's 223 voting centers." Hence, actions must be taken to infuse integrity-supports into the eroding election framework.
NATIONAL VOTER REGISTRY. A national voter registry would utilize local voting locations in order for people to register and vote at any location in the system. Combining that feature with an online account system would help people to track their vote. In ways similar to Social Security cards, voters could be issued "voting cards" and these cards might incorporate QR codes, barcodes, numbers, and a photo. Think of using your credit card to purchase items at a store. The card is unique to you, although there were a hundred shoppers in the store – all purchasing different constellations of items. And, you can go online and check your credit card account to verify your purchases and monitor for fraud. Similar principles could be in place for a "voting card."
INDIVIDUAL VOTING RECEIPTS. Voting machines could be designed to print receipts coupled with opt-in quarterly mail statements (mail statements is a must) along with the digital account. And, digital accounts should list nullified votes.
VOTING ONLINE OR VIA APP. Lee stated that he has concerns over online or app-based voting. If such a model were to exist, it should require a decade of vetting and voter registry every 1-2 years. The ability to hack such a system is underscored with the frequent data breaches and ransomware attacks rife in public institutions as well as private businesses.
VOTING LOCATIONS. A system of secured verified accounts (voter cards) would expand voting locations beyond traditional locations. Per Lee, an organization or business could rent voting machines and host a party! Why can't voting be a celebration? The rental units might be paired with body-cam security guards and body cam staff for the machines – and the machines are valid anywhere in America. Think of the voting machines as similar to ATMs.
EARLY VOTING. Early voting could be as simple as a portable voting machine controlled by the election commission. It could be transported to nursing homes, or community centers.
HOW MIGHT PEOPLE WITH DISABILITIES ACCESS THEIR ACCOUNTS? Cashless stores and accounts requiring 2-step verification are not always easy-to-use for people who are elderly or people with disabilities. As voting moves further to the digital age, considerations must center on both security and accessibility. To offset this access barrier, Lee notes that banks have automated phone account systems and the postal system features mailing of letters. Lee adds that those in the military or US citizens, but not in the US during an election, would be able to use their voter card at their locations to cast their vote. Lee further postures that bank ATM machines could theoretically be repurposed as voting machines.
This is episode 197 of The Safety Doc Podcast published on 12-06-2022. This podcast and blog post represent the opinions of David P. Perrodin and his guests to the show. The content here is for informational purposes only. Please consult with your safety professional regarding the unique needs of yourself or your organization.
FOLLOW
Purchase Dr. Perrodin's books
School of Errors – Rethinking School Safety in America
The Velocity of Information – Human Thinking During Chaotic Times