3D Printing | The Future Has Arrived | 3D Printers For Every Home | 3D Printing in Disasters | Guest flyingRich | SDP165
[Podcast] When his pool vacuum cleaner's bearings failed, a Florida man didn't bolt to Amazon to order an expensive replacement vacuum (in the slight chance it was in stock). Instead, he found open source code for a similar bearing, modified it, and then programmed his home 3D printer to make a new bearing. With the cost of operating the 3D printer at 75 watts per hour, and filament mere cents, and after a few trials, the pool vacuum was back in service for $3 of parts and power.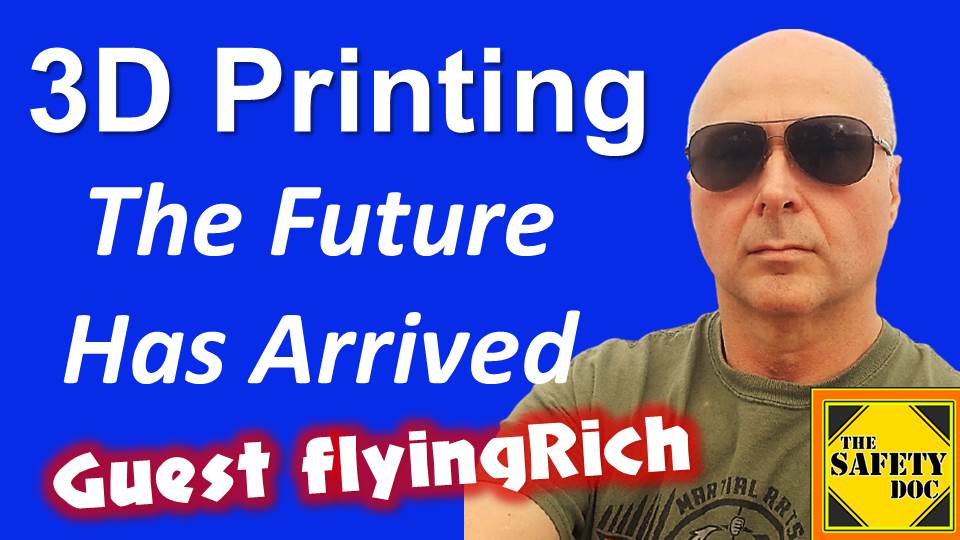 DIRECT LINK to MP3 of this Episode: https://tinyurl.com/SDP165-AUDIO
IN THIS EPISODE. In this episode, Doc interviews flyingRich to learn about the arrival of 3D home printing, or additive printing, as more than a novelty. In addition, flyingRich will talk about the positive impact of 3D printing in crisis situations, such as PPE items and ventilator parts as well as 3D printed mesh network solutions for antennas used in emergency communication conditions.
ABOUT FLYINGRICH. flyingRich (spelled with lowercase f) has been doing tech podcasts for more than ten years (His YouTube channel is titled flyingRich). Rich is an advocate of open source software solutions. He is a regular host on "The Mini PC Show" on the PodNutz network that focuses on single board computing like the Raspberry Pi. Professionally he is a cloud engineer. Being a 3D printing enthusiast he combines the love of tech, open source & cloud computing. Rich is also a 1,000 hour instrument rated pilot.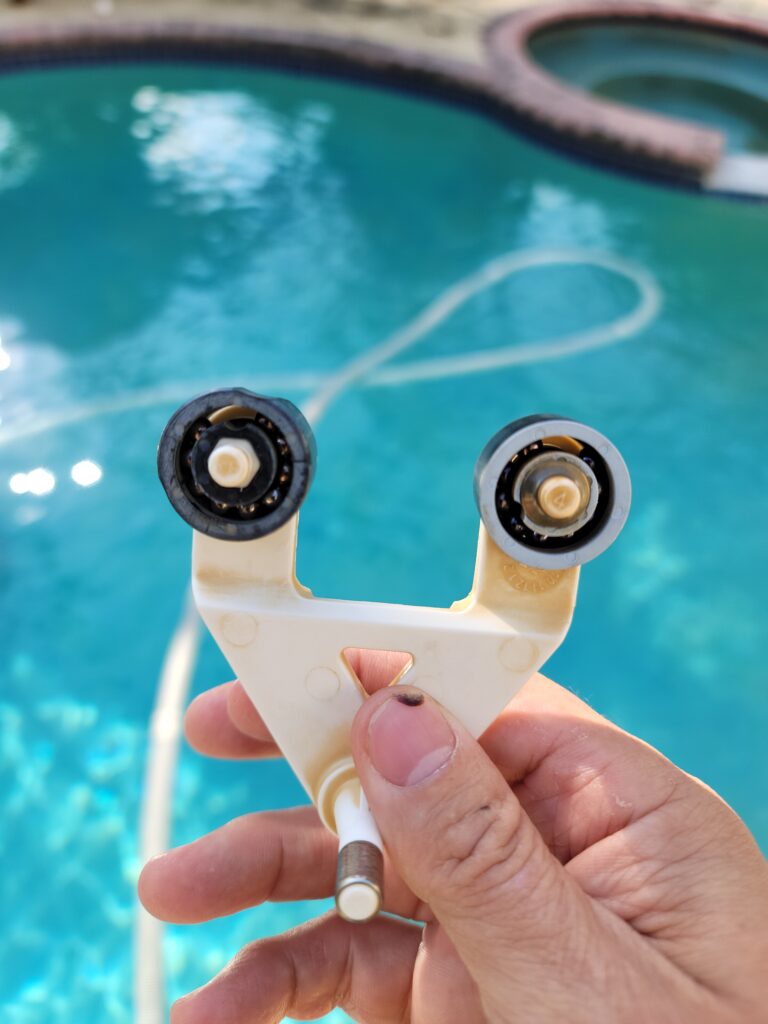 3D HOME PRINTING NO LONGER A NOVELTY. Rich showed off a number of items that he had 3D printed, including a stand for his monitor and a specialized device to bend pipe. In fact, through open source computing and networking, Rich has worked with people across the world to design, refine, and 3D print parts for a range of applications. While the public might perceive home 3D printing as centered on toys, flutes, and trinkets, the reality is that actual houses are being 3D printed, hard-to-configure replacement parts for old homes, automotive parts, and even food. 3D printing produces less waste and allows for complex geometric designs. And, home 3D printers have plummeted in price. An Ender 3, which is a popular entry model for 3D hobbyists, sells for less than $200.
THINGIVERSE. Rich noted that much sharing exists within the 3D printing community. In particular, THINGIVERSE is a website dedicated to the sharing of user-created digital design files. "Providing primary free, open-source hardware designs licensed under the GNU General Public License or Creative Commons licenses, the site allows contributors to select a user license type for the designs that they share (Source: Wikipedia).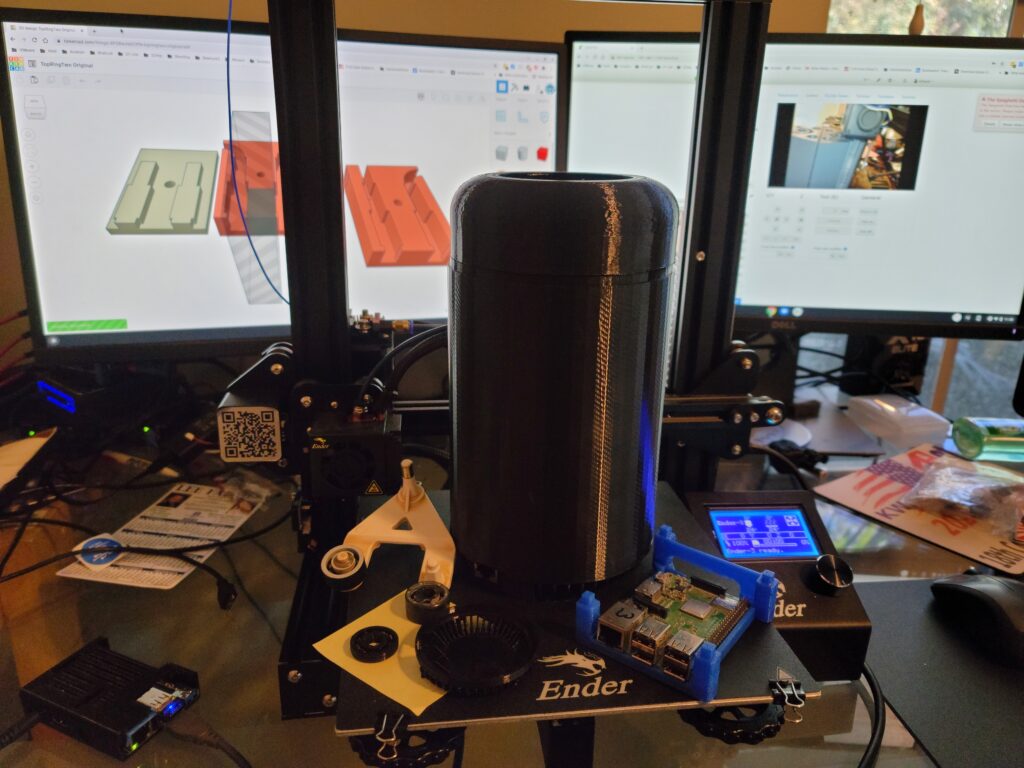 3D PRINTING IN DISASTERS. The December 2021 wildfire that destroyed 1000 homes in Boulder County or the tornado that ripped apart towns in the Kentucky region caused massive damage with little warning. How might mobile 3D printing units be deployed and benefit these areas? Rich and Doc explored this question. Rich felt that 3D printers could build many of the parts needed for geodesic domes, which are lattice shell structures. These are both strong and relatively easy to configure. They could provide shelter to people and animals or staging of assets. Different types of print filament contribute to greater flexibility in builds, also. Evertyhing from rubber gaskets to a metal gripper jaws have been 3D printed. Doc felt that portable 3D printing units might yield much relief to hurricane stricken areas, such as the Bahamas. On a September 11, 2019 show, Doc interviewed German Parodi, a disability rights advocate. In that interview, Parodi explained that people (in the Bahamas) in need of catheters, for example, were unable to obtain them as large planes were unable to land at the damaged airport and it was time-consuming and red-tape-filled to have pallets broken into smaller shipments. A 3D printer might have offered other options in that scenario.
This is episode 165 of The Safety Doc Podcast published on 01-04-2022.
FOLLOW
Purchase Dr. Perrodin's books
School of Errors – Rethinking School Safety in America
The Velocity of Information – Human Thinking During Chaotic Times