Seven School Safety Exercise Objectives That Actually Help Teachers, Police, Fire, and EMS | SDP196
School safety exercises often involve #school staff, #students and agencies (police/fire/EMS), but lack measurable learning objectives. What did exercise coordinators specifically measure during and following the exercise? Does everyone need to participate in the safety exercise, or should some staff and students be assigned to different roles, such as observers? Is it OK to include parents in the exercise? In this episode, Dr. Perrodin fixes the broken framework of inter-agency #schoolsafety exercises in order to center on learning and practices that promote safe schools.
BONUS. Doc shares a powerful, yet simple "5-minute safety asset inventory" that will greatly improve school personnel's awareness of fire alarm pulls, AEDs, and fire extinguishers.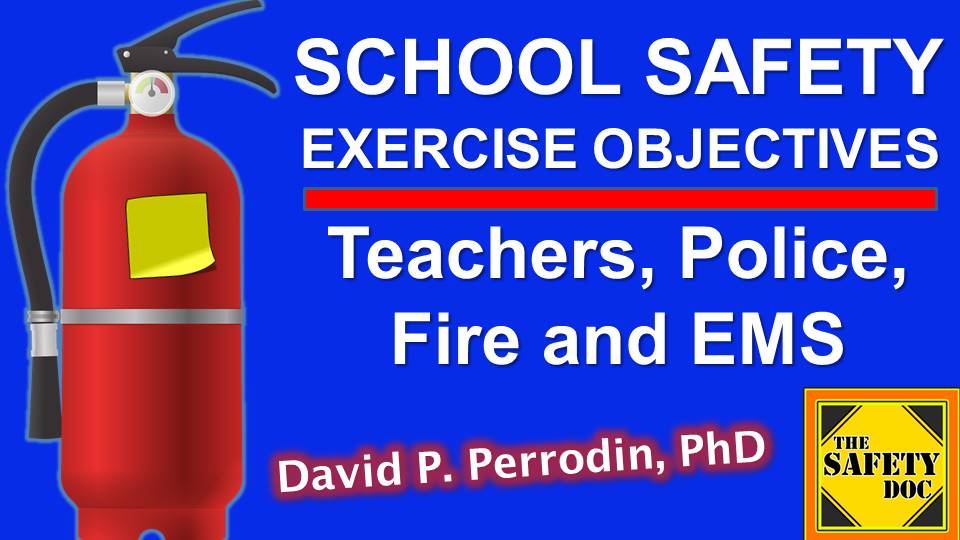 DIRECT LINK to MP3 of this Episode: https://tinyurl.com/SDP196-AUDIO
OVERARCHING THEMES. Three overarching themes are present in school safety exercises. (1) Discretion – who has it, and how do you measure it? (2) Decision Making – how are decisions informed, and are they made at a brisk pace? (3) Induction – how are new staff, students and families made aware of safety protocols?
CONSTRUCTS. These are specific areas that will be measured through learning objectives. There are seven constructs for school safety exercises: (1) Communications, (2) Incident command system/structure, (3) protocols, (4) response times, (5) mechanical systems, (6) staging assets, and (7) maintaining the perimeter.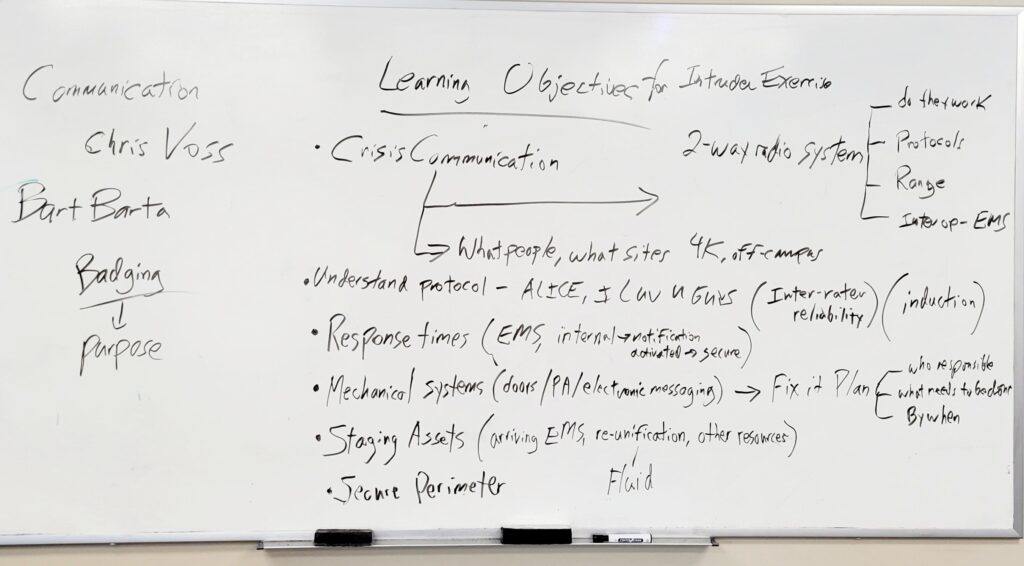 COMMUNICATION. Was there a sufficient number of 2-way radios? What is the range of the radios? Are radios available at community partner 4K sites?
INCIDENT COMMAND SYSTEM. Who has discretion to activate crisis notifications and systems? Will people delay the alert as they search for the "person in charge?" Who has the authority to commit personnel and resources and does that change during an evolving event?
PROTOCOLS. Does the intruder protocol direct students to flee the school or to barricade within the classroom, or both? What should staff say as they communicate over 2-way radios? Who is responsible for grabbing "Go Bags" for students with medical needs?
RESPONSE TIMES. How much time passed between someone becoming aware of an incident and the activation of the crisis notification. How much time passed for staff and students to evacuate the school or to get into their secured positions for intruders or storms? How much time passed between the 9-1-1 call and emergency responders arriving on scene and then entering the building or impacted area?
MECHANICAL SYSTEMS. Assess the functioning of the PA, door locks and the software system that enables electronic messages to be sent to parents. If a door lock malfunctions, who is responsible for ensuring that it is repaired?
STAGING ASSETS. Where did arriving responders put their equipment? Was that efficient throughout the response? How were additional resources staged, such as extra emergency responders from a neighboring community, or extra buses – were they brought on site, or kept somewhere else close by? Where might officials stage arriving parents (even if you did not ask them to come to the school).
MAINTAINING THE PERIMETER. Who determines the perimeter, and how is that communicated to school officials, parents, and the public? How might we be proactive and direct parents to not rush to school during a crisis, or to rush to other schools? What if someone enters a perimeter?
PARTICIPANTS AND OBSERVERS. Most people will be participants, but aim for up to 10 observers who will wear a high-vis vest to identify their role. They will monitor communications, orderly response, trauma features, and interactions between responders and recipients.
ROLE PLAYERS. Consider a parent at the perimeter who wants to access the school. What did role players find helpful, or what was frustrating?
HOT WASH. A Hotwash is a facilitated discussion to capture feedback about any issues, concerns or proposed improvements participants may have following an exercise, planned event or real-world incident. The hot wash is not intended to critique, grade success, or failure.
COMMUNICATE FINDINGS OF THE EXERCISE. Dr. Perrodin notes that preliminary findings should be shared with staff, families, and the community within 72 hours. He also steps through a template to generate a 4-page report to the board of education including photos and quotes from participants.
This is episode 196 of The Safety Doc Podcast published on 11-29-2022. This podcast and blog post represent the opinions of David P. Perrodin and his guests to the show. The content here is for informational purposes only. Please consult with your safety professional regarding the unique needs of yourself or your organization.
FOLLOW
Purchase Dr. Perrodin's books
School of Errors – Rethinking School Safety in America
The Velocity of Information – Human Thinking During Chaotic Times